Welcome
Please excuse our mess! Our online store is closed.
We are packing and moving to our new location. We will be open in our new location at 933 Main Street on July 5, 2016. We will try to get the online store operating as soon as we can. Please call us if you have an immediate need. We will try to find it or take your order to send after the move. Our number is 641-269-3424. Please forgive us if we can't get to the phone in time. There is a voice mail system. Come visit our new location when you get to town.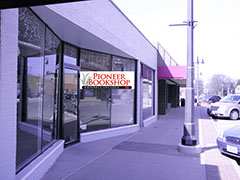 We Are Moving!
The College Bookstore will be on Main Street in downtown Grinnell.
You know how to get to the Strand Movie Theatre. We will be on the way, on the same side of the street. Where do you get your textbooks? You have choices.
Click on TEXTBOOKS/BUY/RENT/RESERVE on the border above to go to our online store. Order your textbooks there and ask us to deliver them to campus. We are going to make several deliveries a day so it will be like free same day shipping! You are always welcome to come straight to the bookstore too.
We will still have art supplies, school supplies, Grinnell College clothing and fun gifts. We will deliver those too.
But.. you will want to visit. Hours will be Monday - Friday 8:30am - 6pm, Thursday nights until 7pm and Saturday 9am - 5pm.

"LIKE" Grinnell College Bookstore on Facebook.

'